Highly respected Felchlin, Switzerland present chocolate couverture in a fresh way
10 April, 2019
Due to the high content of cocoa butter, Felchlin couverture has a thin flowing viscosity, perfect for enrobing, moulding, pastry, ganache, mousses, pralines and luxurious dessert creations.  Felchlin are unique in their work ethic, where they personally know the farmers who cultivate the cacao beans they buy, regular check their working conditions and ensure they pay above and beyond Fairtrade prices.
---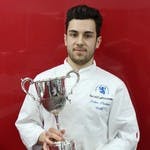 Young Pastry Chef of the Year 2019
24 April, 2019
On Tuesday 9th April 2019, at The Claire Clark Academy at Milton Keynes College, after four hours of intense creativity 21-year-old Julien Piveteau was crowned Young Pastry Chef of the Year 2019. A stellar panel of judges, including our in-house development chef Jerome Dreux, awarded Julien first place after tasting his Mandarin and Chocolate dessert, Pâte De Fruit Exotic and Fantastic Praline Chocolate Egg, made using Felchlin couverture. Julien won a once in a life time trip to The Felchlin Condirama in Switzerland and an inspirational chocolate course. He also received a prized Chefi knife case, as well as being crowned Young Pastry Chef Winner 2019. The Master Chefs of Great Britain's annual Young Pastry Chef of the Year competition is open to pastry chefs under the age of 23 who are actively working in a hotel or restaurant kitchen, banqueting or within any corporate or event catering environment, or a college student.
---