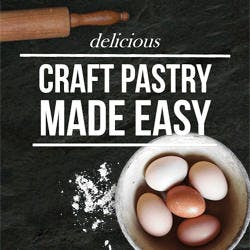 A New Innovation in Pastry
06 February, 2015
Now you can create mouth-watering, patisserie style pastry in minutes with The Pastry Room's range of delicious crumbs and crumbles!
The Pastry Room.pdf
Our unique recipes are developed by pastry chefs to allow you to pour a frozen crumb directly into your mixer, and add water or egg to create fantastic tasting scratch quality pastry in no time at all! No resting; No waiting; No waste. With great re-working qualities and guaranteed to deliver fantastic results every time!
100% natural ingredients.
At The Pastry Room we only select the very best ingredients. We base their suitability for making great pastry and many of these ingredients we select from local producers. All our recipes are 100% natural and we add nothing else. The freshness of our products is preserved through freezing guaranteeing our customers the very best.