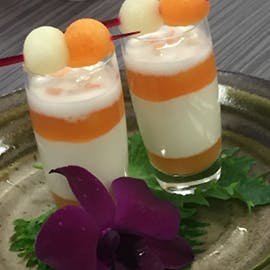 Cherish Finden Ponthier Demo
23 July, 2015
Cherish Finden, Executive Pastry Chef, The Langham Hotel, London demonstrates her talents using Ponthier Purées.
Cherish Finden Demo.pdf
Held at Continental Chefs Supplies Showroom on Baker Street, this week, Cherish & her team demonstrated 3 recipes using the amazing purées from Ponthier, highlighting their fabulous colour, taste & texture.
The guests from the Association of Pastry Chefs were treated to cocktails on arrival; the barman using Strawberry, Pear, Mango, Passion Fruit and Coconut Ponthier purées to make an array of mouthwatering cocktails on a hot summer's evening. Paul Brotherton from Ponthier offered a tasting of the full Ponthier range and Cherish treated the audience to her award winning skills, anecdotes and experience, making 3 fabulous desserts, each offering style, finesse and an extremely successful, surprising mix of taste & texture.