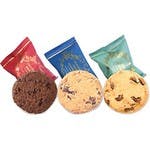 Our exclusive Regency Biscuit Selection offers luxurious cookies in a twin-pack
01 October, 2018
The Regency Selection is a delectable assortment of traditionally-made, pure butter biscuits. Exclusive to Town & Country Fine Foods, their beautifully designed twin-pack packaging makes them a superior choice for in-room amenities or board room meetings and the perfect tea-time partner for prestigious teas and freshly-roasted coffee.  Three delicious flavours make up the selection; Oats and Sultana (a chunky and rustic biscuit that is crisp and creamy), Chocolate Chunk (a slim biscuit with a delicious crunch made with milk and dark chocolate chunks) and the Chocolate Brownie (a decadently chunky round shortbread with rich dark chocolate chunks and melted dark chocolate).
---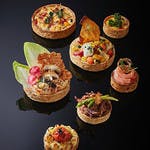 Les Milles-Feuilles Tartes have just arrived!  Hand-crafted and pre-baked for convenience during busy events and service.
01 October, 2018
La Rose Noire have done it again. Les Milles-Feuilles, a range of pre-baked tart shells, are skilfully made using 24% high quality AOP Charentes-Poitou French butter and are ideal for sweet and savoury fillings.  With a delicate neutral flavour and flaky texture, they are simple to prepare, offering a consistent quality and exquisite taste every time. Available in two sizes; small (Dia48 x H19mm) and large (Dia81 x H19mm), they are delivered frozen for ultimate freshness and simply require defrosting in the fridge for 4 hours in their sealed packaging. 
---