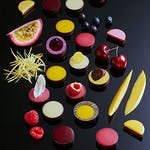 New Chocolat et Fruit eye-catching semi-finished premium desserts from La Rose Noire
01 September, 2018
Looking for consistent and exceptional quality to meet your fine dining or banqueting needs?  Look no further.  An exciting new range of semi-finished frozen desserts made with a 69% single origin chocolate cup, using couverture from the South Philippines.  Hand-filled with a refreshing fruit jelly and topped with a delicious ganache, the bite-size Chocolat et Fruit desserts are ready for chefs to personalise with their own garnish.  Available in a mixed case of 6 distinctive and divine flavours; lemon, passion fruit, mango, raspberry, cherry and blackcurrant.  Perfect if you are seeking to make an impact with your canapes, buffet or celebration events and also ideal for petits fours.  Delivered frozen for ultimate freshness (and convenience when short of staff), simply defrost in the fridge for 4 hours in their sealed packaging.
---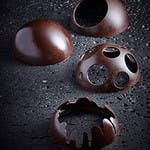 Introducing La Rose Noire's Chocolate Universe chocolate shells range, for out-of-this-world desserts!
01 September, 2018
Premier patissier La Rose Noire have launched an exciting new range of chocolate shell designs made using their own 69% single origin couverture.  Their Chocolate Universe comprises four celestial designs; Globe, Moon, Galaxy and Crater, all exquisitely hand-crafted.  Serve alone for impact or transform into edible art by turning two into a sphere, or on top of a tart shell base.  Each piece is available in two sizes, large (Dia80mm x H40mm) for banqueting or fine dining and small (Dia50mm x H25mm) for buffets and afternoon teas. 
---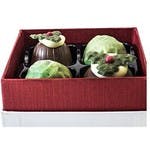 Christmas has arrived at Town & Country Fine Foods
01 September, 2018
We are pleased to launch our 2018 range, spanning the traditional (mince pies, Christmas puddings and cakes) through to the contemporary (festive-flavoured tart shells, petites fours and décor items), plus a fantastic range of hampers, gifting and personalised options.  Don't miss our large selection of 'long bars' for their versatility, festive cookie selections to appeal to all, brand new décor items for a festive finish and hampers, stockings and chocolate figurines for treating your staff and customers.
---