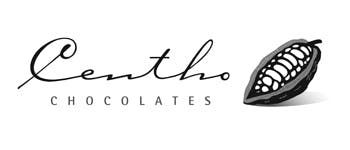 Centho-Chocolates is a young and dynamic company that works exclusively with origin-chocolate. Centho-chocolates was founded in 2002 by Els and Geert Decoster. Right from the start Els and Geert chose to offer top quality only. For them, starting with high quality base products was the one and only option and that harmonised with the difficult but pure concept of 'origin-chocolate'
Through their expert knowledge and passion they are able to make, with these origin-chocolates, subtle combinations with fruit, spices, nuts and many things more. Centho-Chocolates has put together a collection of "flavours of the world" that provides a harmonious and true sensation of taste.
Centho always select the best cocoa beans from the equatorial regions to create their fine chocolates. Apart from the quality of the cocoa bean, other considerations include authenticity, sustainability and ethics. Wherever possible, Centho Chocolates chooses cocoa beans from Rainforest Alliance and Fairtrade areas.
Centho Chocolates - Origin Selection
Centho's Pure, Caramel and Milk assortment exclusively with origine-chocolate.
Centho Brochure.pdf
---
There are no recipes to display