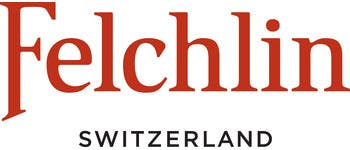 When it comes to chocolate and couverture, the name Felchlin is synonymous with high quality and true craftmanship. With more than 100 years of tradition, they are one of a rare group of chocolate manufacturers who cover the full process, from bean to finished product.
Manufacturing and processing cocoa beans at their workshops in Schwyz, in the heart of Switzerland, Felchlin's success can be attributed to their foundation in traditional production processes and specialist knowhow. They ensure a genuinely Swiss product by selecting high quality cacao beans from all around the world and blending them with more local ingredients, such as cream and/or milk powder of Swiss origin, as relevant for each recipe. Felchlin's strict Couverture Standards commitment guarantee the uniqueness and purity of every product and cover three key areas; Cacao & Sustainability, the Finest Raw Materials and Traditional Processing. These standards are certified personally by their CEO, to ensure full company alignment, at all levels.
Due to the high content of cocoa butter, Felchlin couverture has a thin flowing viscosity, perfect for enrobing, moulding, pastry, ganache, mousses, pralines and luxurious dessert creations.
#felchlin4me
Whatever you do, do it with love, passion and Felchlin chocolate.
---
Felchlin - Sustainable Cacao Production
---
Felchlin Switzerland in 33 seconds...
---