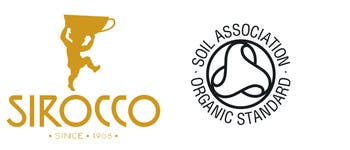 Sirocco produce teas of the highest quality, using raw ingredients sourced from organic farms from across the world, including verbena from Paraguay, nana mint from Morocco and piz palu from Switzerland. They are manufactured under fair trade conditions and only work with producers who share their high standards.
Supplied in attractive packaging with luxurious, handcrafted sachets, Sirocco teas are perfect for afternoon teas, boardrooms and in-room amenities.
All Sirocco teas are certified organic by the Soil Association and offer uncompromising organic quality, from bush to cup:
– carefully hand-picked in the world's best-known tea-growing regions
– painstakingly processed by experienced, passionate tea masters
– initial selection of the choicest qualities made on the spot
– Packing and transportation in selected packaging provides optimum protection for the delicate goods.
– Manually packaged in handcrafted tea sachets made from biodegradable materials
– careful hand-packaging of the sachets in pouches to seal in their flavour
– All in all, care and attention that ensures our customers can look forward to the very finest quality.
There are no videos to display
There are no recipes to display
There are no products to display